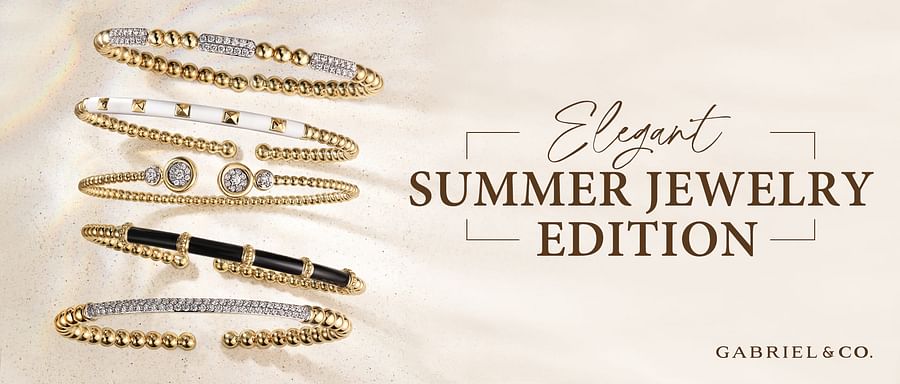 Imagine strolling along a sun-kissed boardwalk, feeling the gentle ocean breeze on your skin. Or picture yourself at a garden party, surrounded by the sweet scent of blooming flowers, or exploring a lively street market. Wherever your sunny adventures take you, let your minimal jewelry effortlessly work its magic on your outfit. These delicate accessories have a powerful impact, letting your personality shine through. Don't worry about picking the right pieces; we've got you covered with the secrets to styling your summer looks with perfect jewelry. Keep reading to step up your summer style game.
1. Layer Delicate Necklaces:
Let's get real about the coolest trend to slay this summer – layering delicate necklaces like a pro. It's all about keeping it simple yet stylish, mixing those dainty chains with interesting charms – like a butterfly or a sun motif, a diamond-studded initial, a pearl drop, or whatever catches your fancy. Rock that flowy cotton maxi and amp up your look for a romantic beach stroll or a surprise dinner date by the sea. Start with a neck-hugging choker, then add a mid-length chain to level up the game. And don't forget that long pendant necklace for some extra glamor. Time to unlock your summer charm, ladies. Own it.
Attending a beach wedding in a stunning floor-length halter dress in a deep, jewel-toned hue? Your wrists deserve an equally magnificent companion. While stacking metals can be playful, when aiming for a minimalistic charm with a bold-colored ensemble, cohesion is key. Opt for one metal to achieve that sophisticated look. Choose silver for a cool and sleek aesthetic or embrace gold for a touch of warm glam. Keeping it consistent will ensure you turn heads with your elegant and cohesive style. Let your wrists radiate with the perfect metal accent, making a lasting impression on that special day.
3. Opt for Statement Earrings:
For that perfect summer style, let your ears steal the show with statement earrings. Embrace bold geometric shapes like triangles, squares, or circles, adding panache to every outfit. Whether it's a casual day at the beach or a chic rooftop party, these earrings will elevate your look. Go for delicate hoops for an undeniably cool vibe, easily transitioning from jeans and tees to romantic evenings out. Accessorize with confidence and let your statement earrings be the highlight of your summer fashion.
4. Choose Delicate Rings:
Achieve a chic summer style with delicate rings that exude understated elegance. Opt for slim bands with subtle detailing to add a touch of finesse to your look. Stack multiple rings for a bohemian flair, or wear a single dainty ring for a minimalist vibe. Embrace the versatility of delicate rings, effortlessly complementing any outfit, whether you are beach-bound or attending a stylish event. Let your fingers do the talking and elevate your summer fashion with these exquisite accessories.
5. Incorporate Colored Gemstones:
Infuse your summer style with a burst of color by incorporating colored gemstone jewelry. Opt for vibrant gems like turquoise, coral, or amethyst to add a playful touch to your look. Pair a statement necklace with a breezy sundress, or wear colorful gemstone earrings to elevate a simple outfit. Stack gemstone bracelets for a boho-chic vibe, or sport a bold cocktail ring to make a splash at any event. Embrace the joyous hues of colored gemstones and let your summer style shine bright.
6. Mix Metals Selectively:
Embrace the eclectic charm of combining gold, silver, and rose gold pieces for a unique and captivating look. Pair a silver necklace with a stack of gold bangles, or wear rose gold earrings with a statement gold ring. The key is to balance the metals to achieve a harmonious and chic ensemble. Let your creativity shine through, and make a bold statement with your mixed metal jewelry this summer. And to save effort, purchase mixed metal jewelry that amalgamates the beauty of two metals together in a stylish design.
7. Incorporate Chic Design Aesthetics Like Beads:
Explore jewelry designs that incorporate chic aesthetics like beads. Look for necklaces or bracelets with small, delicate beads in different colors or textures. These subtle embellishments can add a touch of uniqueness and bohemian charm to your summer outfits.
Make a daring statement this season with mismatched earrings or necklaces boasting unique elements, lengths, or shapes – a modern twist that sets you apart from the crowd. Embrace the beauty of asymmetrical designs by pairing a short stud on one ear and a dangly statement earring on the other. Or get creative with necklaces of varying metals for an edgy, layered look. This artistic touch adds dimension to your summer ensembles, letting your individuality shine through with every daring combination. Embrace the allure of asymmetry and make a bold impact on your summer style.
9. Select a Signature Pendant:
Discover a design that resonates with your soul – be it geometric shapes symbolizing balance or gemstones exuding harmony. Seek a meaningful symbol that reflects your journey, holding a special place in your heart. This signature pendant alone can make a bold statement, infusing any summer outfit with modern classiness. Bonus: It doubles as a fantastic conversation starter, making it the ideal jewelry accessory for a memorable first date. Embrace the power of personal significance and let your pendant shine as a cherished memento of your unique story.
10. Opt for Quality Over Quantity
Elevate your style with well-crafted, minimal designs that stand the test of time, exuding timeless elegance and longevity. These treasures become your trusted style companions for years to come. Like fine wine, quality, minimal jewelry only grows more captivating with age. They become intertwined with your journey, carrying cherished memories that make them even more special.
You're never fully dressed without a gorgeous piece of jewelry, so get ahead and shop from Avonlea Jewelers to elevate your style notches higher.